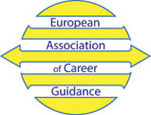 The European Association of Career Guidance (EACG) was founded in 2010, with an official kick-off meeting during the CAREER-EU Conference 2010. It is acting as association with Non-Profit status and Non-Governmental organisation.
The purposes of the Association are:
to enable information and experience exchange by career guidance counsellors and HR practitioners;
to circulate provisions of the Europe 2020 Strategy and its updates in academic and professional circles;
to support the process of raising education and professional standards and quality in the territory of the European Union;
to support and contribute to the European Employment and Vocational Education and Training Policies;
to organise training and train-the-trainer courses for the promotion of Life-Long Learning (LLP);
to organise seminars and conferences, which will enable direct communication among the Association members and beyond, and for the definition of new areas of the Association activities;
to prepare proposals within the framework of EU programmes funded by the European Commission;
to cooperate as a coordinator or partner in European projects and
to produce publications of interest to EACG members and the interested audience.
Project management and implementation team:
Dr Gregory MAKRIDES, Partner leader
Dr. Christina Kontogoulidou, Expert
Mr. Nikos Stathopoulos, Expert
Mrs. Simoula Christodoulou, Expert
Website: www.eacg.eu